Our technology and expertise make investing easier.
Our portfolio management is built on three key components:
1. You complete a short questionnaire based on your goals, risk tolerance and timeline.
2. We build you a diversified portfolio of ETFs.
3. We monitor your portfolio daily, and automatically rebalance it when needed.
Diversification, automatic investing and rebalancing strategies do not ensure a profit and do not protect against losses in declining markets.

Schwab Intelligent Portfolios is designed to monitor a client's portfolio on a daily basis and will also automatically rebalance as needed to keep the portfolio consistent with the client's selected risk profile unless such rebalancing may not be in the best interest of the client. Trading may not take place daily.
---
Set Your Goals.
With Schwab Intelligent Portfolios, you can invest for retirement, save for a vacation, or work to build long-term wealth. You can also set and adjust a target withdrawal amount to help you get a sustainable income stream.
There is no guarantee the intended goal, or the duration of future withdrawals associated with those goals, will be reached.
See how Schwab Intelligent Portfolios works – and helps keep your investments on track towards your goals.
---
A Diversified Portfolio.
You will get a portfolio of ETFs handpicked by a team of investment professionals.
For illustrative purposes only. Not representative of any specific investment or account.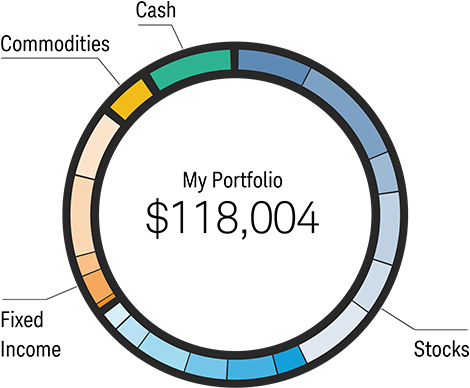 ---
Automatically Rebalanced.
Our cutting-edge technology monitors and rebalances your investments to help keep you diversified and on track.
Rebalancing can lower risk.
Portfolio Volatility - Hypothetical Moderate Asset Allocation.
Risk is based on the standard deviation of a hypothetical moderate asset allocation (35% large-cap stocks, 15% international stocks, 10% small-cap stocks, 35% bonds, and 5% cash investments), rebalanced annually, from 1970 to 2015. Source: Schwab Center for Financial Research, with data from Morningstar, Inc.
---
Tax efficiency.
If an investment declines in value, our automatic tax-loss harvesting can help you offset the taxes on investment gains.
Tax-loss harvesting is available for clients with invested assets of $50,000 or more in their Schwab Intelligent Portfolios account. Clients must enroll to receive this service. Please be aware that the ability to realize significant tax benefits from tax-loss harvesting depends upon a variety of factors, and no assurance can be offered that a particular investor will in fact realize significant tax benefits.
---
Range of Accounts.
We offer several options, including brokerage, IRA, custodial and trust accounts.
For illustrative purposes only.